Bible Diggers For Kids uses the DIG Bible Study to teach Scripture to children. Not only do kids learn many important stories in the Bible, but they are given the tools to continue to read Scripture for themselves. The Bible Digger format intertwines bible teaching with options for singing, crafts and game time, giving it a similar feel to VBS programming.
"Through Bible Diggers, our youth learned twice as much about the Bible as they did in Awana."
— Rev. Randy Beasley | Lee's Grove PFW Baptist | Dunn, NC
Benefits of Bible Diggers:
Teaches straight from Scripture
Jesus-centric
Uses simple DIG Bible Study Method
Trains children how to read the Bible
Wide age range
Low-impact on volunteers
Scales to any size group
Leaders grow in faith and knowledge, too!
Flexible to your church's situation and environment
Great alternative to Awana…kids will learn more!

FREE!

(plus permission to make copies)
Training available. See below…
"Bible Diggers at Lee's Grove this year turned out to be the best tool I have ever used in teaching young people. And wouldn't you know it— right off the pages of our Bibles. I looked forward each week searching out details from the stories and then letting the kids dig them out in class. I was impressed by their recall of lessons we studied…Thanks Jason for sharing!"
— Rev. Randy Beasley
Year One: Bible Overview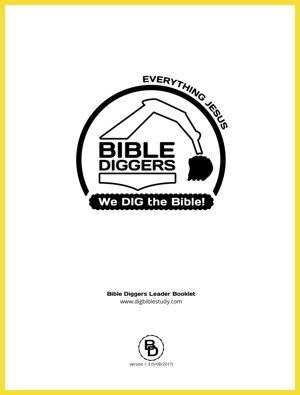 The first year covers gives a chronological overview of the whole Bible over 27 weeks. Each week covers a certain story, provides a linked Bible verse, a teaching tip for leaders, helpful object/illustration lessons, and more! We have provided a sample schedule for any church to easily implement.
Year Two: Life of Christ
The Bible Diggers Year Two curriculum is now available for download! Year Two covers the life of Christ — Pre-birth prophecies, birth and childhood, teaching, miracles, death, resurrection, ascension and return. We have also included a new schedule track, which includes the opportunity for teens to be involved both in the learning and the helping…A great way to train the next generation of leaders!
Year Three: Book of Acts
Year Three will be created in the summer of 2018 and will teach through the book of Acts. As always, everything is meant to lead toward Jesus and how the Scriptures are revealing what God has to say about Himself. The Year Three Bible Digger For Kids curriculum will be no different!
Adjust to Fit Your Own Teaching Style
While the framework is firmly established in Scripture, other components can be modified to best make use of personal strengths, audience size/age, alotted time, etc. Make it yours!
"I would keep a running timeline with a symbol or two out of the lessons, and they had fun remembering the story. They also had a lot of fun acting out some of the stories and we always played a game or two of praying man (hang-man) guessing Detail words from the story."
— Rev. Randy Beasley
Need Training? We'll Give a Workshop!
If you are located near North Carolina, we can come to your church to help train your volunteers to run Bible Diggers For Kids. Outside of NC? We can try to figure out a way to help, too. We want to be as great a resource as possible for training your youth in the Scriptures. Email us to talk more: jason@digbiblestudy.com